Meet the Expert: Tim Furr, Business Development Executive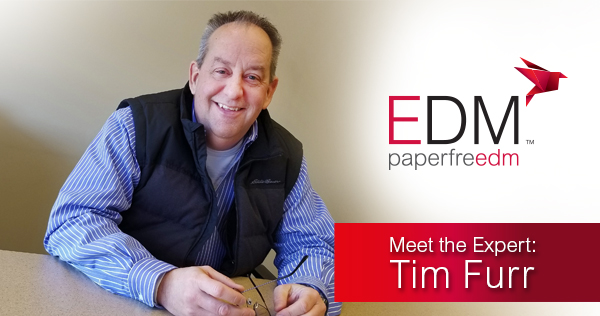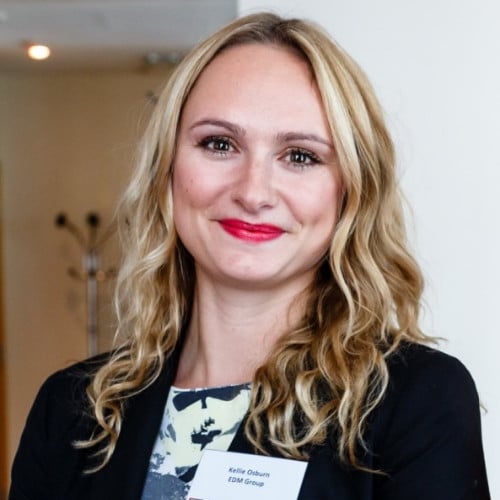 Written by: Kellie Heinze
Publish Date: Jan 10, 2020
Read time: 8 minutes
In our latest installment of our 'Meet the expert' blog series, where we feature key members of the EDM team and shine a spotlight on their expertise, we sat down with Tim Furr, Business Development Executive, to talk printing, mailing, digital transformation and what trends are driving the industry forward.
Tim's career with EDM began in the summer of 2019. While he is relatively new to EDM, his deep career experience in the programming and printing space allows him to frame solutions for clients and identify the efficiencies that matter.
---
What's your core expertise?
My core expertise is in designing solutions for transactional documents. I started in this space as a junior programmer creating solutions for financial institutions like brokerages, banks and credit unions. Some of my early work was also in the nonprofit space. I developed and refined one of the first brokerage applications to take raw data and transform it into a custom, outbound, printed brokerage statement. This may not seem like a significant accomplishment by today's standards since we've all come to expect that statements like this come each month, but at the time, this program and the technology was a big deal. The deep knowledge I gained by actually designing transactional documents allowed me to shift my career from programming to selling those same solutions to clients in various industries, including utilities, healthcare, banking and other types of financial companies.
How have you seen technology change since you started your career?
Printing and mailing statements started to catch on in the early 1980s. At that time, everyone was looking for something new and slick; computers and technology were still in their infancy and many businesses were looking to use those tools to "wow" customers.
Interestingly, the three components of transactional document processing remain the same since its inception — data aggregation and manipulation; printing, folding and mailing; and delivery — and each of those components continue to evolve at a rapid pace. In the early days, most documents were black and white (unless the company printed on shells to use color cost-effectively) and created with monospaced characters. Today, the average consumer has come to expect full-color, branded messages with images like logos, charts, graphs and calls to action that can be delivered via traditional mail or e-delivery, including emails or SMS text messages. The whole concept of transpromo mailings — a transactional document that includes promotional messages — continues to evolve, building organizations' brands, increasing product awareness and motivating recipients to take a desired action. We see many instances where clients aren't taking full advantage of branding opportunities within their customer communications, and helping them to do that (with guidance from our expert EDM team) is exciting to me.
On the intelligent insertion side (where documents are folded and put into an envelope) there has been tremendous progress over the years. We're able to track every page printed, every envelope mailed and essentially every piece of communication a customer receives — by use of technology and intelligent processes. This type of tracking is especially helpful for industries that need to maintain compliance and verification of information shared. As an integral part of the last leg of the printing and mailing process, the US Postal Service has also taken steps to harness technology in its operations, implementing smart barcode systems and offering postage discounts to maintain affordability for its services.
How has technology changed in the past five years?
Everyone said paper documents would 'go away' due to electronic-delivery. Interestingly, paper is still widely used. Not all customers want to receive documents through email. Sometimes they're bombarded with email or maybe they just like the act of receiving and reviewing a printed piece of information in their hands. Of course, we are seeing more technological improvements like faster printers and insertion equipment, and also improved accuracy in e-delivery mechanisms like two-step authentication. All efforts focused on speed, accuracy, security and deliverability are intended to ensure the right person is getting the right documents at the right time. Data security is paramount. In today's age, it's rare to have a piece of mail stolen from your mailbox, but it is becoming more and more common to have personal information stolen through a data breach or hacking incident. It's more important than ever for businesses to be vigilant about protecting their customers' data.
How do you solve complex challenges for clients?
Every client situation is unique. Listening and understanding where they want to go, identifying their challenges and finding out what they want out of their communications are important topics to discuss at the start. Today it's about the intangibles—the right message to the right person at the right time. I try to identify how EDM can specifically help with their process and alleviate burdens to their team or operations. Yes, everyone wants to save money, but that's just part of the equation. Sometimes it starts as a printing and mailing project but then the client indicates that they have pain points when receiving documents too. We're finding that the EDM Online product is beneficial to clients of all sizes. Serving as a digital mailroom, it provides insights into mail sent, processed and received. Using technology and data to build a memorable experience with a client's customers and helping them to become more efficient in the process of doing so is the fun part of my job.


What excites you about working at EDM?
---

"That's easy; it's the people. The clients are all unique and EDM's team is talented and dedicated. EDM's employees all want to help clients achieve their goals. "

---
Our team is accessible and responsive, always looking to help clients maximize use of our technology to make their operations better. I love being able to sit down with a client and our EDM staff experts to understand how we can influence their entire process and, essentially, make their workday easier.
What would you want someone to know about EDM's printing capabilities?
It's state-of-the-art. Over the last five years, EDM has gone through a complete technological transformation and moved from a toner-based platform to a full-color, ink-jet platform. These operational investments provide greater flexibility and throughput and enable enhanced imaging capabilities.
From conversations you've had with clients, why do they choose—and stay with—EDM?
Again, it's EDM's people. We have established many relationships that have been maintained for the past 10, 15, sometimes 20 years. The people doing the work at EDM continue to deliver excellent service level performance. Clients appreciate and recognize that.
Can you share something that most people wouldn't know about you?
I'm an avid reader and love to read anything, but specifically, history. I believe history repeats itself in some form or fashion. Our past influences our future, so what better way to understand it than to read about it? My mind is also packed with random trivia.
If you enjoyed this article and want to learn more, download our useful eBook "Considering Outsourcing Your Printed Communications? 10 Elements to Keep in Mind".